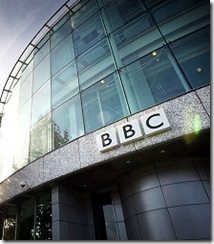 I have already commented on the discrepancy between the BBC's statement about their 2006 climate change seminar and the evidence submitted to the Information Tribunal by Helen Boaden, the then Director of News. Whereas the latter seems to be claiming that the input provided by external attendees at the seminar had a major impact on programme content, the former is at pains to downplay any impact, apparently in light of the very surprising contents the participants list.
Now I want to look at another strange aspect of the BBC's statement; a very cynical
assertion:
There has been no censoring of climate change reporting. We have attempted to report proportionately. Indeed The BBC Trust's science review of last year praised our coverage.
There is absolutely no doubt that the BBC Trust's report, authored by Professor Steve Jones, did deliver such praise, however it also dismissed, and misrepresented, an obviously relevant and well referenced submission that Andrew Montford and I provided in a couple of sentences.
A submission made to this Review by Andrew Montford and Tony Newbery (both active in the anti?global?warming movement, and the former the author of The Hockey Stick Illusion: Climategate and the Corruption of Science) devotes much of its content to criticising not the data on temperatures but the membership of a BBC seminar on the topic in 2006, and to a lengthy discussion as to whether its Environment Analyst was carrying out BBC duties or acting as a freelance during an environment programme at Cambridge University. The factual argument, even for activists, appears to be largely over but parts of the BBC are taking a long time to notice.
Had Professor Jones considered what we were telling him, then the BBC would not now be embroiled in yet another scandal impugning both its impartiality and its trustworthiness.
The submission is here, and it sets out in detail all our concerns about the activities of the organisers of this seminar and the BBC's unwillingness to come clean about who attended it. The length to which the BBC Trust went in order to avoid facing-up to a problem that, like Jimmy Saville's behaviour, would obviously become more damaging the longer it was suppressed, is detailed in our submission to the Leveson Tribunal from §60 onwards. We were not even able to obtain confirmation that the Trustee responsible for the review was aware that we had requested permission to make a submission.
One might think that, given the way in which the BBC is beset with scandals concerning Saville and possibly others, Newsnight's gratuitous assault on Lord McAlpine's reputation, and now the secret climate change seminar - with even the Trust's chairman, Lord Patton, admitting that trust needs to be restored and, 'What we now need to do is get a grip on what's happening in the BBC, including the journalism which is at the heart of what we do' - the BBC statement might do better than attempt to invoke some Professor Jones sycophantic praise. In fact it would seem that he was more concerned with praising his paymasters than doing his job properly. When the opportunity, indeed the necessity, arose some two years ago to air the issues surrounding the seminar calmly, and long before our national broadcaster was under fire as never before, the chance was missed.
And still no one at the BBC seems to realise that the time for dissembling and hoping that problems will just go away is over. As I write, a new angle on the seminar story is breaking on the website of Dr Richard North (not to be confused with Ridhard D North who attended the seminar)
Climate change: another of those interesting networks
If a bomb has now exploded in the BBC's face, then they have had plenty of warning that it was ticking.
Oh! And do read Christopher Booker tomorrow!
2 Responses to "More about the BBC seminar statement"
Dodgy Geezer Says:
November 18th, 2012 at 11:13 am

Would you characterise the current BBC and the BBC Trust position as follows?

1 – We openly stated that a decision to cease providing balance in Global Warming coverage was taken at the 2006 meeting of 'experts', which is why balance is no longer sought.

2 – Then we indicated that a decision to cease providing balance in Global Warming coverage was really taken internally, and the 2006 meeting was not involved.

3 – We now claim that no formal decision has actually been taken to cease providing balance, and so the BBC continues to provide equal coverage

4 – No further complaints about or discussion of this situation will be responded to, because it is all secret.

If so, might this form the basis for a maladministration inquiry, addressing the ability of the BBC Trust to address questions of BBC bias?

youtube Says:
January 19th, 2013 at 9:27 pm

Hi there! I know this is somewhat off topic but I was wondering if you knew
where I could locate a captcha plugin for my comment form?
I'm using the same blog platform as yours and I'm having problems finding one?
Thanks a lot!
Leave a Reply