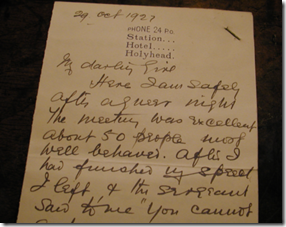 With storms – and even better, rumours of storms – helpfully filling the usual holiday season news vacuum, I thought the letter transcribed below might be of interest. By a strange coincidence, my wife came across it today when sorting through some old family papers.
It is a letter from her grandfather to her grandmother on the eve of a trip to Ireland (from whence he came) and the night after addressing a local political meeting on his way to the port of Holyhead. The causeway he mentions is unchanged; a mile long embankment about 20ft high with the sea on one side, a road halfway up the other side, and a railway line on top. The weather was not very good.
The Station Hotel

Holyhead

29th Oct 1927

My darling Girl

Here I am after a queer night. The meeting was excellent, about 50 people, most well behaved.

After I had finished my speech I left and the sergeant [of police?] said to me "You cannot go home, all roads are under water; hopeless". I said "I'm going to Holyhead. Which is the safest road? By Bethgelert or Portmadoc? He said "Portmadoc". I went.
Reached the gate to causeway. Gatekeeper said "all safe", though an awful storm was blowing. I went on. Soon I found sea was breaking over railway bank & falling on road. Car was swamped, engine stopped. I got out into a sea of spray& foam. Walked back, met three men who wanted to get to Portmadoc. Agreed to walk together. I started first, they followed – but I presume they went back as I did not see them again.

The noise & screaming of wind & sea as it plunged over railway and down on top of road, and myself included, were awful, and most frightening. Water was over knee deep on road, stones, rocks, galv'd. [galvamised] iron sheets from fences, were also on the road. I stumbled on, fell down in water several times, tripping over rocks and stones.

Many cars lay helpless on road all empty except one in which there was a girl frightened out of her life. Her companions had left her. I got into car and sat a while as I was nearly done up. Then we both got out into about 2 ½ to 3 ft of water, walked on to Portmadoc. I went to Sportsman Hotel, borrowed pyjamas, went to bed. They dried my cloths splendidly.

This morning took out men to car. Got it going again without much difficulty. Came on here. Asked sergeant in Penrhyn to let you know. All wires are down. They say living man never saw such a state of affairs. When I saw the road that I had struggled over last night in daylight I wondered how I am alive. Don't see how it can be cleared for days. People who I met cannot understand how I got through.

I am crossing by 2.30 boat today. My clothes are the worse of the wear and I had to buy a new hat here. Luckily what are in bag are dry.

In greatest haste & best love

Yours

Pat

Hope your meeting went off well. The bridge at Penrhyn is down, all trains and road traffic stopped. Trees across roads everywhere. They had my road cleared however in time for me to pass.
My wife's grandfather, as I remember him, was a vast man who possessed great strength of character, energy, and business acumen. Having survived constant danger during the Irish 'troubles' of the early 1920s, it is unlikely that he was easily scared. We still have his hip flask, a very fine example sheathed in crocodile skin with silver mountings. It is of 1 quart capacity.