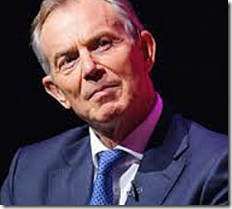 In the wake of press coverage (Mail on Sunday and Daily Telegraph ) of the BBC climate seminar scandal, I posted some background to the current revelations here. This touched on connections between Tony Blair's presidency of the G8 in 2005 and the seminar. It is worth looking at this in more detail.
The G8 is a forum for the governments of eight of the world's largest economies. During an eight-year cycle each nation takes it's turn to act as chairman and set the agenda on an annual basis. Of course this opportunity does not occur for every government leader. Some may be in and out of office during the years when others hold the post, but there is no doubt that presidency of the G8 provides politicians with an opportunity to be seen playing a major role in international affairs. Of course it is also important that the G8 president should have solid public support at home for the policies that he chooses to be the hallmark of his term in office.
In 2005, Tony Blair had been prime minister for 8 years and was under pressure from his Chancellor of the Exchequer, Gordon Brown, to stand aside. There can be no doubt the 'Blair legacy' was by this time a major consideration in formulating public policy. This golden opportunity to strut the world stage could play a valuable part in bolstering his rather tarnished reputation and particularly so in 2005, which was a general election year in the UK. Finding policy initiatives for the G8 agenda that would enhance the prime minister's image as a caring man of the people, and command public support at home too, would be a crucial task at such a time.
Downing Street finally decided that the two subjects that would best serve the purpose were African development and global warming. The prospect of saving not only Africa from chaos and starvation, but also the whole of humanity and the planet from environmental catastrophe would surely fit Blair's messianic persona perfectly. There is some inside information about the processes by which this decision was taken.
In 2007, Sir David King retired from the post of Government Chief Scientific Adviser and was inclined to reminisce about the influence he had had on public policy during his term in office. During an interview on the BBC Today programme in late 2007 he had this to say:
… in that early period in 2004 there was much discussion about what we would be doing during our G8 presidency, and the response – and I think this was because it was taken up so well with the media, so let me say something nice about the media – the result was that we lead the G8 with climate change and African development, both of which I was very very strongly in favour of.
BBC Today Programme 20-12-2007
In other interviews Sir David provided clues as to how this came about, and the decisive influence that he had on events: Continue reading »