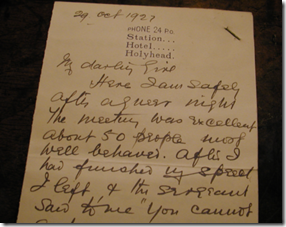 With storms – and even better, rumours of storms – helpfully filling the usual holiday season news vacuum, I thought the letter transcribed below might be of interest. By a strange coincidence, my wife came across it today when sorting through some old family papers.
It is a letter from her grandfather to her grandmother on the eve of a trip to Ireland (from whence he came) and the night after addressing a local political meeting on his way to the port of Holyhead. The causeway he mentions is unchanged; a mile long embankment about 20ft high with the sea on one side, a road halfway up the other side, and a railway line on top. The weather was not very good.
The Station Hotel

Holyhead

29th Oct 1927

My darling Girl

Here I am after a queer night. The meeting was excellent, about 50 people, most well behaved.

After I had finished my speech I left and the sergeant [of police?] said to me "You cannot go home, all roads are under water; hopeless". I said "I'm going to Holyhead. Which is the safest road? By Bethgelert or Portmadoc? He said "Portmadoc". I went.