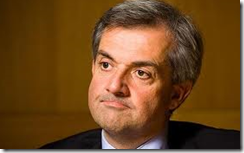 When Chris Huhne announced the carbon budget for the period 2023-27 recently, as required by law under the terms of the Climate Change Act, the Department of Energy and Climate Change had this to say in a press release:
The carbon budget will place the British economy at the leading edge of a new global industrial transformation, and ensure low carbon energy security and decarbonisation is achieved at least cost to the consumer.

http://www.decc.gov.uk/en/content/cms/news/pn11_41/pn11_41.aspx
Well, I suppose he would say that, wouldn't he. But what will the cost actually be?
According to a BBC report published the same day, which predictably makes an enthusiastic attempt to sell this absurd piece of economic self-destruction to the public, this is what is in store for us:
The Committee on Climate Change has forecast that to meet emissions targets the average household fuel bill will go up by £1 a week until 2020 when it will plateau out with no major rises after that.
… and just what is that supposed to mean?
Taken literally, are we supposed to prepare ourselves for an eye watering £1 hike in our fuel bills for each and every week from now until 2020, in which case the increase in cost will be over £600 per week by then. Or is it supposed to mean that by 2020 the cost of domestic fuel will be only just £1 per week more than it is now, which seems equally improbable.
In any case, what has the cost of fuel in 2020 got to do with an announcement about a carbon reduction target seven years later? I suppose that whoever fed this titbit of spin to the churnalists in the BBC newsroom thought that muttering something incomprehensible about £1 per week would be enough to lull most readers into a complacent acceptance of grandiose plans to single-handedly save the planet while miraculously resuscitating the moribund British economy.
A quick check revealed that the press release on the DECC website makes no mention of a £1 per week increase in fuel bills, which is not particularly surprising. The briefings that friendly organisations like the BBC receive from government departments go well beyond the published press releases that people like bloggers, who may ask awkward questions, are allowed to get their hands on. However I did find this in the Notes for Editors section of the press release:
The Committee on Climate Change provided their advice http://www.theccc.org.uk/reports/fourth-carbon-budget) in December 2010.
So presumably that is where the BBC's notion that completely restructuring the UK energy industry will only cost consumers £1 per week originated – or something.
Now that link leads to a report from the Committee on Climate Change which runs to nearly 400 pages, and I'm not going to pretend that I've read it all. On the other hand, I have spent a good deal of time searching it to try and track down the claim that "… the average household fuel bill will go up by £1 a week until 2020 when it will plateau out …", and discover how this estimate has been arrived at.
No luck! Zilch! Nothing!
The DECC press release also provides a link to the full text to Chris Huhne's ministerial statement to the House of Commons so casting the net a little wider, I tried that. These are some of the fragments that I found:
Signing up to an ambitious Fourth Carbon Budget will result in no additional costs to consumers during this parliament.

…..

Rising electricity costs pose a key risk to these sectors [energy intensive industries] which are critical to our growth agenda. We will, therefore, take steps to reduce the impact …

…..

Mr Speaker, it is important to stress that the UK's existing policies already put us on track to meet the first three carbon budgets. They also provide a strong foundation for the fourth carbon budget, implying no additional near-term costs. [my emphasis]

http://www.decc.gov.uk/en/content/cms/news/cb_oms/cb_oms.aspx
It is hardly surprising that targets for cutting carbon emissions during the period 2023-27 will have no immediate impact on house hold fuel bills, and this tells us nothing about what the actual impact will be. There can be no doubt that the minister recognises that there will be additional costs associated with his plans, because he mentions this problem in connection with energy intensive industries. He finally claims that his plans will incur no 'near term-costs', whatever that may mean, but he skilfully avoids any reference to what the cost of the plans he has just presented to Parliament will be. And there can be no doubt that there will be considerable costs, can there?.
If anyone out there can point me to the source of the claim in the BBC reports that "… household fuel bill will go up by £1 a week until 2020 when it will plateau out with no major rises after that" I would be very grateful, because I find all this pretty confusing. Perhaps we are supposed to believe that the massive extra cost of carbon reduction will just vanish into thin air if it is not added directly to domestic fuel bills, and that the electorate will not notice at all. It would be interesting to know whether the Committee on Climate Change really did make this claim, and if so how they did their sums.