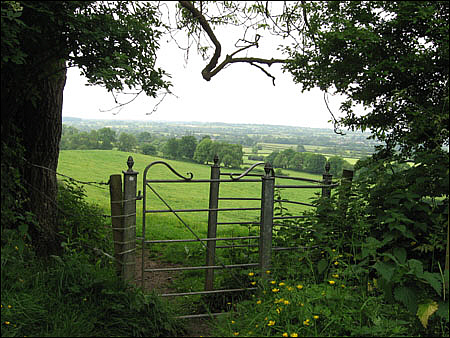 When we set off to walk the Cotswold Way recently, we were exploring new territory in a type of countryside that was unfamiliar to us. Here are a few jottings, but this post owes far more to the photographs taken by my wife than to my words.
Our lives have been spent mainly in the Highlands of Scotland and North Wales, although I was brought up in West Sussex at a time when that still beautiful county was truly rural, rather than a dormitory for London and other urban areas. So you could say that our natural habitat is the mountains and moorlands that are typical of Britain's Celtic fringes, and we have walked thousands of miles in such areas, both at home and when we travel abroad.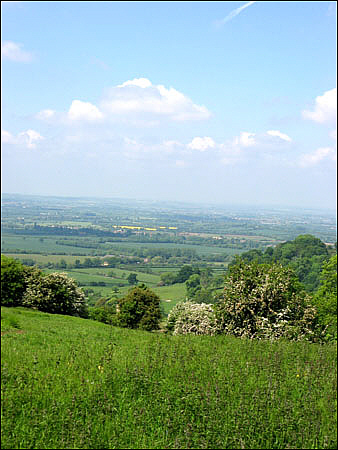 The Cotswolds could hardly be more different; perhaps the quintessence of the English lowland landscape, entirely free of the rawness that is so characteristic of upland areas where the violent hand of erosion is apparent wherever one turns. During the nine days that it took us to cover the hundred odd miles from Chipping Camden to Bath, we saw this spectacular part of the world in perfect late spring weather, with the May Blossom still at it's best, new leaves fresh and green on the trees after a hard winter, and wild flowers everywhere.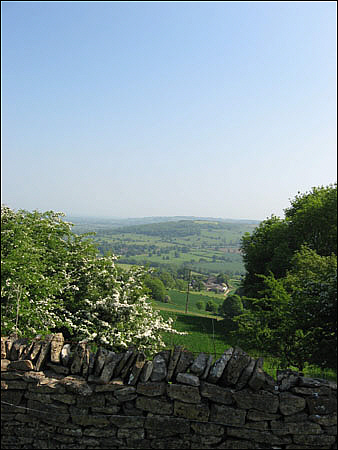 This is a landscape that, since it's bare frame was sculpted by nature at the end of the last ice age, has been clothed by man, and what glorious attire several thousand years of ruthless exploitation has created. I have used the word 'exploitation' carefully here, for in considering such places that are now treasured for their beauty and tranquillity it is essential to remember that aesthetics played no part in the way they came into being. This is a landscape that predates any concern about 'the environment', tourism, or recreation, and although such areas are often spoken of in terms of natural beauty, this is misguided too. The hand of man is everywhere, in the neat fields separated by hedges that exist only because they are necessary for agriculture, in the well tended woodlands, in the floras that have been allowed to thrive because they are beneficial – or at least harmless – and the absence of those flora that are not.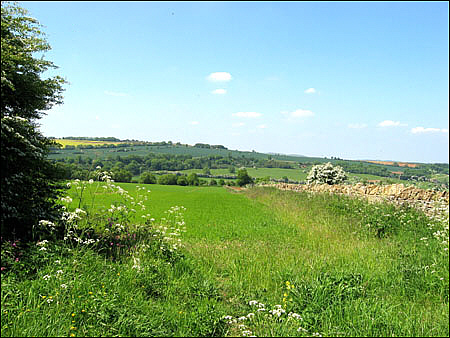 The Cotswolds provide rich well-drained soils on their lower slopes combined, in the past, with areas of open grazing on the higher ground, ideal for sheep. Much of the uplands now grows crops too, although sheep are to be seen here and there in pastures and where areas of common land have survived.
During ages when agriculture had only two essential purposes – the provision of food and the means of making clothes – such productive land has been highly prized. This has been the case in the Cotswolds for at least 5000 years. The landscape owes its character to countless generations of farmers who were all too aware that only successful cultivation could protect them from destitution and starvation. In our time, when food and raw materials can be sourced from any part of the world, all that has changed.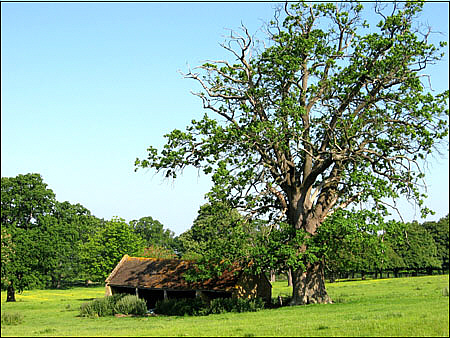 Only in the 17th and 18th centuries did large landowners begin to make attempts to beautify the areas around their mansions by creating parks; idealised landscapes set out by the likes of Capability Brown where agriculture took second place. But although these are a joy as one walks through them, with their vast trees set in undulating grassland providing ever-changing vistas, they are a very small part of the whole.
The Cotswold Way follows the tops of the wolds* wherever possible, but with excursions down to the edges of the broad vales of Evesham and Gloucester. It is tempting to say that these rather tame uplands are mere molehills compared to the kind of country we are used to walking in, but although this is true it belies the vast panoramas that they provide, particularly in the early stages of the journey. The outlook to the northwest over an untroubled rural landscape seems almost limitless, and one gazes at it in endless fascination and wonders that so much rural beauty can have been preserved in a heavily industrialised nation.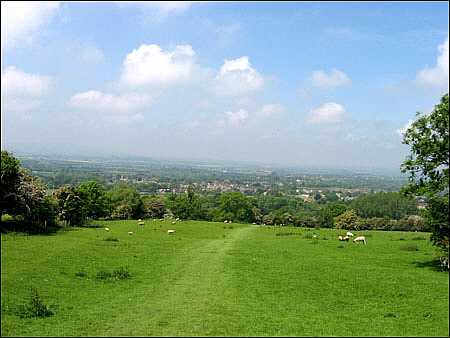 From the heights around Broadway Tower the eye scans thirty miles across the Vale of Evesham to the blue outline of the Malvern Hills beyond Worcester, and in clear weather onwards to the Welsh Marches, and even the rugged mountains far across the border in Wales. No one who has witnessed these panoramas can be in any doubt that much of our landscape is still rural, even if the population is not. Nor can one fail to marvel at such beauty existing in an age when most people live in urban or suburban areas. But for how much longer will this continue to be the case?
Along the Way, we stayed in pubs and Bed  and Breakfasts, our only real interest after the day's walking being some beer, food, a good book, and finally a glimpse of the television weather forecast to reassure us that the fine weather would continue. One evening I caught the regional news while waiting for the forecast and heard that protest groups were trying to stop one of the major energy companies installing wind measurement towers in the Vale of Evesham in preparation for planning applications to build wind farms. This was the very landscape that we had been so entranced by for the previous couple of days. After the first recoil at the thought that such desecration of a place of great beauty could even be contemplated, my thoughts turned to the Malvern Hills, an ever present distant blue line as we trudged along, which overlook the Vale of Evesham from the north-west, and I thought, not for the first time, about their association with Edward Elgar.
As a child and young man, this most English of composers lived just outside Worcester on the edge of the Malvern Hills. Although he is best remembered for the rousing, but now unfashionably, Pomp and Circumstance March No1 with its chauvinistic finale, Land of Hope and Glory, this is quite untypical of the main body of his work. Elgar was, above all, a pastoral composer, and his deep love of the Worcestershire countryside and the Malvern Hills, countryside that he loved and knew so well, imbues just about everything else he wrote. He was a great walker and cyclist throughout his life and never more content than when free to roam the byways, lanes, and paths of his native county. To put it in the usual trite terms, it was from this that he drew his inspiration.
It is impossible to fully appreciate Elgar's violin or cello concertos, the first symphony, or countless other lesser works without recognising the extent to which the wonders of this beautiful landscape contributed to his creative life. Its importance to him is well illustrated by an incident shortly before he died.
During Elgar's last illness, an old friend from his youth in Worcestershire visited him. As the man was leaving, Elgar called him back to his bedside and said, 'After I am gone, if one day you are walking in the Malvern Hills on a beautiful summer morning, and hear someone in the distance whistling this tune', and he quietly whistled the opening theme from his cello concerto, 'don't be surprised, it will only be me.' It would seem that Elgar, a devout catholic, made little distinction between the magnificence of Heaven and the Malvern Hills.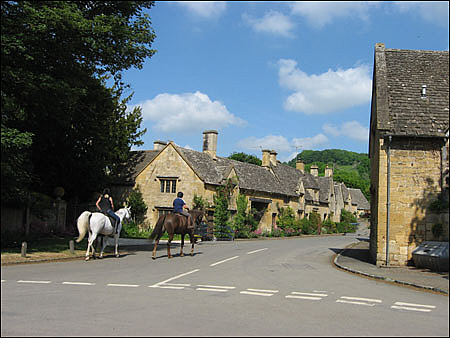 The association between unspoiled countryside and the creative process is so ingrained in our culture that it needs no explanation. By industrialising such landscapes with wind turbines, we do far more than just commit acts of pointless vandalism. We stifle the ability of future generations to see their surroundings in terms that are not entirely anthropocentric. Although the Cotswold landscapes are breathtakingly beautiful, that beauty is not derived form nature alone, nor entirely from the works of man, but from a unity of the two that is enduring, glorious, and reassuring.
It would seem that we are already breeding generations who think that it does not matter if such resources are impaired. I recently heard a spokesperson for the British Wind Energy Association say in an interview that people would get used to the fact that the countryside 'will change slightly' as more and more wind farms are built. This is no slight change, it is a radical alteration in out relationship with our surroundings.  It is not just the visual impact that wind turbines can have in places like the Vale of Evesham. This is troubling enough, but  the change in our psyche that that allows them to be built is far more so.  For many years it has been understood that certain landscapes are immensely valuable assets that should be preserved because they are irreplaceable. Now this thinking seems to have been discarded without any consideration of the consequences.
WG Hoskins says in the introduction to the 1974 edition of his incomparable Making of the English Landscape:
Many parts of the English landscape remain just as our forefathers left them a long time ago. It is to these quiet solitudes … that we can still gratefully turn for refreshment and sanctuary from noise and meaningless movement.
As noise and meaningless movement becomes an ever-larger part of most people's lives, so the preservation of the countryside in places like the Cotswolds and the Vale of Evesham becomes ever more important. We would not stand by and watch our great gothic cathedrals, or the ancient castles that still remain, modernised and put to new industrial uses, so why are we so complacent about what is happening to the remaining examples of unspoiled countryside that are equally part of our heritage and culture?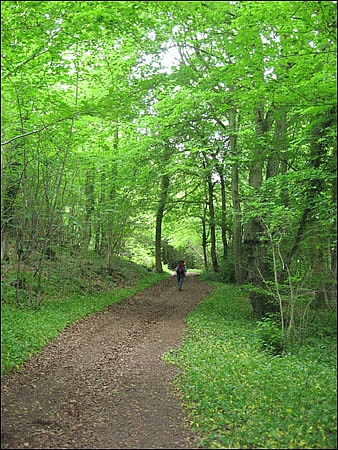 Perhaps the greatest hope for the Cotswolds lies with the people who live there. All the locals that we stopped to talk to along the way, and there were many, seemed immensely proud of their beautiful landscape, and glad that people like us were coming to enjoy it in the best possible way; on foot following the winding paths through the woods and fields. A surprising number of them seemed to have walked the Cotswold Way themselves, and the impression I got was that they will be unlikely to let anyone despoil their heritage without a fight.
*  A piece of high, open uncultivated land or moor.