Update 20/06/2011
The petition closed on 17th June with a total of 3250 signatories. This may seem fairly modest but by Welsh Assembly Government petition standards it is huge. The previous best was only 1893 signatures.
The effects of this effort are already beginning to feed through into policy with Wales' first minister Caerwyn Jones announcing that he will be asking the Westminster Government for greater powers to control wind farm and grid developments in Wales. In the meantime, J-Gwen has raised an interesting point in comment #19.
_____________________

I received the following message earlier today. At last there seems to signs of mass resistance to the industrialisation of some of the last remaining truly rural areas of Britain. Tan 8 is a Welsh planning policy document that opens the way to building wind farms even in National Parks and at Sites of Outstanding Natural Beauty. The petition asks the Welsh Assembly Government to reconsider this document in the light of growing public opposition. If you care about such things, do please spare a moment to sign up: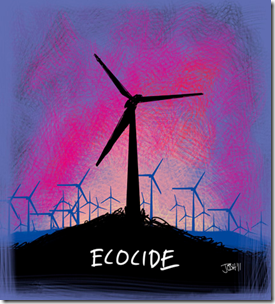 It's official, our e-petition is the biggest ever.
Since the National Assembly of Wales e-petition web site was launched, our petition – "Say No to Tan 8 – Windfarms & High Voltage Power Lines Spoiling our Community" has collected the most e-signatures ever, now standing at 2083 (mid afternoon Wednesday 8th June 2011)  the previous highest being 1893.
This shows the depth of feeling amongst the people of Wales and beyond to the hideous plans. The closing date is 17th June (mid-day) and anyone who has not signed it is urged to do so, follow the link below or just search for e-petitions on the National Assembly web site.
http://www.assemblywales.org/gethome/e-petitions/epetition-list-of-signatories.htm?pet_id=579
Thank you for all your support
Cartoon courtesy of Josh – more here, or if you really want to let people know how you feel get the the T-shirt