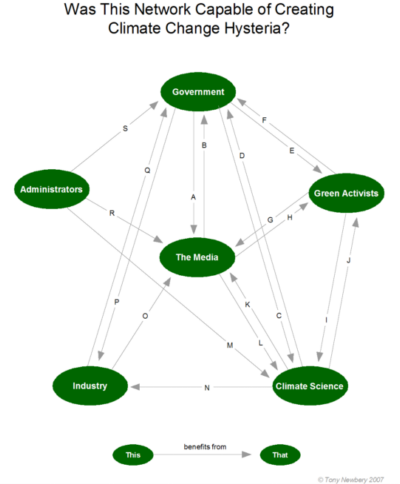 (Click for larger image)
This diagram is concerned with the following issues: is it in the interests of any of the parties concerned to question the science of anthropogenic climate change, or to dissent from the view that global warming is without doubt a major threat that can only be averted by urgent action.
I came across this the other day when I was clearing some files. It was drafted in January 2007, shortly before the IPCC's Fourth Assessment Report was published.References to a New Labour government, that at that time seemed likely to cling to power indefinitely, may be a little passé now, but I have not updated what I wrote then  because the main thesis has not changed. At that time I was beginning to wonder whether the campaign against global warming really had much to do with scientific evidence, and I think that it is still possible to make a case that it does not.
If I was revising the diagram today, and there are many minor changes that could be made, it might also be necessary to make a distinction between the mainstream media and the web-based media; particularly blogs.
Until the interrelationships between the six elements illustrated in the diagram begin to break down, it would seem unlikely that there can be any real curtailment of climate change alarmism. Although the diagram does not reveal any kind of conspiracy – but rather a symbiotic network that very effectively drives forward an agenda that benefits all concerned – it does imply a level of uncritical, perhaps even cynical, collusion.
Key to the Diagram:
A.      Government benefits from the Media.
Favourable media coverage is crucial if any democratic government is to stay in power. By appearing to lead the fight against global warming, our the New Labour administration can present a green, caring image to the electorate, promoting the idea that it is a major player on the world stage attempting to protect not just its own people, but all humans everywhere. At a time when most news coverage of the Blair administration is concerned with the debacle in Iraq, failure to deliver improvements in public services, and scandals involving ministers, global warming presents a quite irresistible opportunity to improve the government's very tarnished image. The scope for spinning tax increases as a noble effort to combat the threat of climate change is also obvious. Whatever Tony Blair's merits as a prime minister may be, he is undoubtedly an exceptionally skilful publicity manager who understands that the press like to be thrown some red meat from time to time. For journalists, authoritative prophecies of doom, backed by the government no less, are something that they can really make a meal of and still appear to be acting responsibly.
B.      The Media benefits from Government
If the government needs the media, there is no doubt that the media also need the government. Dramatic news stories are every editor's stock in trade, and there is no more eye-catching headline than 'the end of the world is nigh'. If government press departments issue press releases predicting global disaster, then the media can publish sensational stories without the risk of being accused of sensationalism. They are conscientiously reporting what our rulers are telling them, and the source of the information enhances its credibility. Even if an editor has doubts about the robustness of the underlying evidence, expressing them would only undermine a good story.
C.      Government benefits from Climate Science
A naturally sceptical public may be reluctant to believe politician's prophecies of global catastrophe. They are used to news being manipulated. On the other hand, scientists command a high level of respect based on the assumption that they are dedicated and impartial seekers after truth. These credentials can give government policy initiatives on global warming a degree of credibility that they would not otherwise posses. Politicians who seek to save the world need the support of scientific evidence which confirms that they are doing the right things for the right reasons; they are simply acting on the basis of what responsible scientists are telling them, and scientists are not political, are they?
D.      Climate Science benefits from the Government
In order that research scientists can practice their craft, funding is required, and so far as climate science is concerned this is most likely to come from the public purse. Expenditure can best be justified if scientists are seen to be addressing a high profile problem. It would be wrong to suggest that researchers in this field routinely distort their findings to please their paymasters. On the other hand there can be no doubt that research which may confirm the wisdom and importance of government policy is more likely to receive funding than research which might challenge the orthodoxy on which that policy is based. He who pays the piper calls the tune, even in the ivory towers of academia, and every research department knows it. This must influence decisions when plans for future research projects are being considered.
E.       Government benefits from the Green Activists
Although the government may resent accusations by the green movement that they are not doing enough to prevent climate change, this is a small price to pay for the opportunity that they now have to harvest the votes of people who were formerly their opponents. The potential for gaining electoral advantage by earning the endorsement of the Green Activists is confirmed by the extraordinary prospect of the Tories risking the wrath of their core voters in an attempt to portray themselves as being green at heart.
F.       Green Activists benefit from Government
Until quite recently, the public perception of green pressure groups was that they represented earnest and well meaning relics of the hippie generation who were in thrall to their own apocalyptic visions. The emergence of global warming as a government priority has allowed the greens to move from the political fringe to become mainstream players in the development of public policy. This has not only provided them with undreamed of influence on decision making, but also with a level of public interest which will continue to increase their membership, their revenues and their credibility for as long as the government choose to keep global warming at the forefront of their agenda.
G.     Green Activists benefit from the Media
Like any proselytising movement, the greens need to maximise their exposure in the media in order to spread their message and increase donations and membership. Without high profile coverage of their campaigns, their influence would be negligible. Public concern about global warming has made the task of their highly skilled and well funded public relations departments far easier. The media has become conditioned to publishing apocalyptic headlines about climate change on their front pages. Press releases that would formerly have been discarded by editors with a yawn are now mainstream news.
H.      The Media benefits from the Green Activists
If the green activists are eager for publicity, no one can blame the media for being ready and willing to provide it at the present time. Global warming is a hot topic and organisations such as Friends of the Earth and Greenpeace are expert at serving up topical press releases from which dramatic front page stories can quickly, cheaply and easily be made. This is a journalist's vision of heaven, and there is little incentive for them to resist, or even question, what may be blatant attempts at manipulation.
I.        Green Activists benefit from Climate Science
In the global warming debate, scientific research is the preferred authority for all but the most outrageous claims of impending catastrophe. By selectively quoting findings which seem to confirm the green mantra that 'humans are destroying the planet', green activists can make claims that would otherwise be ignored as extremist ranting.  If their political objectives are to be achieved they need to be supported by scientific evidence, and it is very easy to cherrypick the most convenient research without revealing to the public, who know little about climate science, that there are massive contradictions and uncertainties as well. So many scary news stories are backed up with phrases like, 'Recently published research shows that ……'
J.        Climate Science benefits from the Green Activists
In a perfect world, all scientist's would approach their work with a single-minded determination to advance human knowledge through purely objective analysis of facts. Politics, religious beliefs, preconceptions, or the desire to fit in with the orthodoxy of their peers would play no part in their deliberations. We do not live in a perfect world; although there are undoubtedly many scientists who conscientiously strive to maintain the highest standards of impartiality, all are human. Anyone who surfs the websites of leading climate scientists cannot fail to notice how many of them exhibit overtly green political credentials. In some cases, it is clear that environmental concerns have led them to their chosen profession. However hard they may strive to leave political commitment at the laboratory door, the risk of unconscious bias is very real. Indeed at times it is hard not to suspect that green activists are acting as unpaid publicity officers for climate researchers who are politically sound and produce the kind of predictions that they want to hear. Such assistance can take science into the political arena and make a researchers reputation.
K.      Climate Research benefits from the Media
Climate scientists are no different to any other professionals who work in a highly competitive environment. In order to progress in the hierarchy of their profession they must not only shine, but must also be seen to shine. Although consistently reliable findings published in peer reviewed journals may slowly create a reputation that leads to ever more exalted posts, there is also a short cut to fame, and some degree of fortune too. With the media eager to publish sensational global warming stories, it only requires one well placed press release for a formerly unknown scientist to become famous within his or her discipline and far beyond. World-wide publicity may not confer any increased credibility on findings, but it is certainly a shrewd career move that may attract more funding and better chances of promotion. Then there is the ever present problem of finance. In general terms, the more publicity that global warming receives, the greater the pressure on governments to fund climate research. Securing funding is the priority of all researchers; without it they cannot work. And what journalist is going to spoil a good story by asking too many questions if a dramatic press release seems to 'sex up' new research?
L.       The Media benefits from Climate Research
The media has good reason to be enthusiastic about publishing global warming stories as we have seen already. If stories arrive ready made in the form of press releases from scientists at the cutting edge of the global warming debate, so much the better; surely these people must know what they are talking about. So scientists get the publicity that they crave and journalists get eye catching stories. All would be well with this cosy arrangement except that there is a tendency for climate scientists to underplay uncertainties in their research, let alone mention contradictory findings by others in their field. A research department that alerts the media to their latest work is under no obligation to do journalists' work for them by giving a balanced account of what it means. At the same time, editors may feel that there is no need, and certainly no incentive, no  to question what they are being told by acknowledged experts when it makes a good story anyway.
M.    Administrators benefit from Climate Science
In order to implement government policy on climate change, administrative structures must be put in place. For the the civil service this means bigger budgets, more jobs, new departments and the extension of their authority into new areas. Quangos and task forces must be set up and supervised, action plans drafted and reports commissioned, published, and sometimes even acted on. Administrators do not complain about their empires being expanded. The fight against climate change must be implemented and co-ordinated;  they are just the people for the job.
N.     Industry benefits from Climate Science
Until quite recently, proponents for anthropogenic climate change saw big business as the enemy; ruthless and irresponsible exploiters of the earth's precious resources who uncaringly pollute the atmosphere. This is now changing. The opportunity to build highly subsidises wind farms, use exhausted oil wells for carbon sequestration and sell the public expensive mini-generation equipment improves corporate balance sheets. If you fly somewhere sunny and warm for your holiday, there is even a man in Wales who will, for a consideration, plant a tree to soak up the Co2 released into the atmosphere by your aircraft. And this is just the tip of one iceberg that definitely is not melting. According to Environment Minister David Milliband, measures to combat global warming will be worth £40 billion to the UK economy over the next decade. Industry can and will benefit from the fight against climate change.
O.     Industry benefits from the Media
Power generation company advertisements now show wind turbines rather than the coal and gas fired plants that actually provide most of the nation's electricity. The chairman of Shell has headed a delegation of business leaders at a well publicised climate change 'summit' in Downing Street and has addressed the Royal Society about what his company can do to help. Wind turbines are even appearing on the rooves of supermarkets. Climate change provides endless opportunities to polish up tarnished images and the press welcomes stories about climate change. Even a small investment in the fight against global warming can yield a vast return in the form of good publicity.
P.      Government benefits from Industry
Any left-of-centre government has an image problem when it comes to dealing with industry; funding from the trade unions movement together with ingrained hostility to big business makes this inevitable. New Labour has shown itself to be obsessed with its image, and it is acutely aware of longstanding public scepticism about its ability to run the economy successfully. Opportunities to show ministers working hand in had with industry to combat the threat of global warming, even when this involves more regulation and increased taxes, are hardly likely to be neglected by the spin doctors.
Q.     Industry benefits from Government
What chief executive could resist the opportunity of selling a profitable commodity in a rigged market? Renewable energy allows multinationals to build hopelessly inefficient generators with the aid of government grants and then sell all the electricity they produce at a price fixed by the Renewables Obligation. This is roughly twice the going rate of conventionally generated power. The electricity distributors are bound by government regulation to buy all the renewable energy that is produced, at a price that is not determined by market forces, and the consumer has no alternative but to pay. So long as the government chooses to whip up fear of global warming, any company that has a product that can be portrayed as green, however hare-brained and expensive it may be, can rely on a ready made market.
R.      Administrators benefit from the Media
Bureaucracy has an image problem; no one likes faceless officials in offices telling them what to do. Governments that increase the size, and the cost, of bureaucracy are not likely to find that this makes them popular with the voters. Any media coverage that shows these despised and undervalued toilers at the administrative coalface in a better light has to be a comfort for them. Fortunately, the struggle against a warming climate allows at least some administrators to appear to be dedicated eco-warriors who are doing something useful, rather than frowzy pen pushers. A constant stream of press releases drawing the public's attention to the importance and urgency of fighting climate change can certainly work wonders for the administration's image. It also helps the government justify the expense of keeping them in public employment.
S.       Administrators benefit from Government
Government pays the administrators, directly or indirectly. New policies, such as curbing Co2 emissions, require more personnel, larger departments, more regulations and more. This is music to the ear of any civil servant.