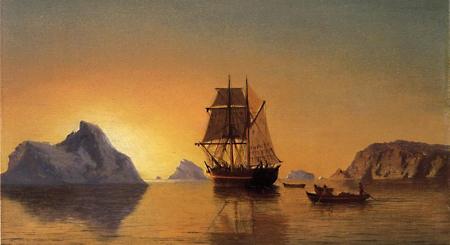 An Arctic Scene 1881, by William Bradford
In mid November 2010, secondary schools in Lincolnshire were invited to take part in the launch of a new scheme, a climate-change themed project that will be, in the words of the press release, "aimed at helping young people explore the human demand on the earth's ecosystem." The two organisations behind this development are an agency called The Mighty Creatives and an entity called Cape Farewell, about whom I will write more in a moment; the name of this project is speakgreen.
What exactly is speakgreen? According to Cape Farewell's website, it will involve "Green Teams" of pupils to be formed in participating schools; these teams will be "facilitated at a senior level by school leaders, teachers and youth workers, and mentored by the experienced educationalists at Cape Farewell Education." And what will these teams do? They will "investigate aspects of climate change in the region, initiating creative and scientific projects, and building links to local artists, scientists and journalists."
So far, this project does not seem entirely dreadful, on the face of it. Investigating aspects of climate change sounds a lot like science, after all – making observations and doing experiments, advancing and testing hypotheses, that sort of thing. And in principle no-one, surely, would be against the idea of creative and scientific projects in schools.
It is when you start looking into Cape Farewell's web presence and activities, however, that you realise that the science is actually secondary to their stated mission. Although oceanographers and geologists take part in Cape Farewell's frequent voyages to the Arctic, this is first and foremost an artistic endeavour; the project was created by artist David Buckland in 2001, and is concerned with instigating a "cultural response" to climate change. Their best-known idea has been to expose designers, writers, musicians, comedians and – increasingly — schoolchildren, to the ostensibly fragile beauty of the Arctic, with the intention that participants will be inspired to communicate their learnings in a creative way to the rest of us, and thus help to effect a "cultural shift of values" in society.
A mostly harmless exercise, you might conclude – after all, these people are not blockading power stations, creating a nuisance at airports or demanding that we all turn vegan. However, I do not consider Cape Farewell or speakgreen to be harmless; indeed, in my view, their presence in British schools is of dubious educational value and their activities are a waste of public money. Here's why I think this way.
Firstly, the presentation of climate science on the Cape Farewell website is a rather strange affair. There are sensible-sounding statements such as there "appears to be enough evidence over the last century to indicate that global warming is taking place", that "increased amounts of C02 in the atmosphere as a result of burning fossil fuels is blamed by many as one of the main causes" and that there are "alternative explanations that show how longer term climatic changes can occur for a variety of reasons." Do I detect a nod to scepticism?
But then utterly sweeping (and oddly phrased) conclusions are reached. "Rising CO2 and Methane levels are the reason for global warming, and their use [fossil fuels] continues to push up the world's temperature to dangerous levels, predicting worldwide economic and social destabilisation, let alone any concerns for the welfare of the planet." And there is this: "Climate change is caused by the way we choose to live in our urban environment…" Scientific caution morphs effortlessly into total certainty.
With such a leap to alarming conclusions, it is no wonder that arts and humanities students both past and present (of whom I am one, incidentally) appear to be disembarking from these voyages just as semi-literate, scientifically speaking, as when they started out. Theatre director Deborah Warner went on Cape Farewell's 2010 expedition, where she watched a glacier calving at the end of the Arctic summer. This made a strong impression on her. "Climate change is real – in this environment it demands respect and brings us to our senses. We've witnessed the wonder of glaciers and seen the retreat in action. Most shockingly, we heard it." Earlier in her article for The Independent, she states "But the climate-change consensus is very clear; 95 per cent of scientists cannot be wrong…" She writes with the heady enthusiasm of a religious convert.
Back to speakgreen, one proposed activity is the investigation of aspects of climate change in the region. When some of the more arts-inclined schoolkids return from their hunt for evidence of global warming along the Lincolnshire coast and touch base with their speakgreen mentors, I wonder whether they will have gained a better understanding of coastal erosion due to mundane things like longshore drift, or whether they too will have witnessed the melodrama of climate change happening before their very eyes. Call me cynical but I suspect it will be the latter.
Our urban lifestyles are causing global warming, or so the science appears to have said; what, then, should we do about it? Cape Farewell Director of Education Colin Izod believes that schoolkids should be encouraged to form an opinion on that subject. He tweets enthusiastically: "with speakgreen students need to understand that they can step forward and act and teachers that they need to step back and let them!" and "speakgreen is about school students believing they can have opinions about climate change and act on them. Voice,leadership & creativity!"
But some opinions are likely to be more equal than others. Performing a quick thought experiment, let us say that young Philip in the 3rd Year survives the science phase of the project with his critical faculties intact and forms an opinion that CO2 may not be the main driver of climate change. And let us say his equally perspicacious classmate Tracey forms an opinion that even if global warming poses a problem for the world, the best strategy would be to bring the developing nations out of poverty.
Do you think it probable that Philip's and Tracey's opinions would be discussed seriously in class, even acted upon? Would we then be able to watch the Green Teams of Lincolnshire perform a school play about the promise of cheap energy and GM food in sub-Saharan Africa? Or read fervent poetry dedicated to the uncertainties of climate science? Admire students' colourful paintings of nuclear power stations, perhaps?
I think not. It will be the same old unimaginative, one-sided, dead-end fixation on bringing down CO2 emissions, and little else. But before anyone dismisses me completely as an old cynic (I'm not, I'm still a middle-aged cynic) I would urge you to visit the speakgreen website where you can find three videos about the project, which has already taken off in Northern Ireland and Germany, apparently. Watch them all, but watch especially the second one, which provides us with some good real-life examples of speakgreen-type opinions and activism in action. Here are a few highlights (bear in mind that these are children, who – unlike their teachers – should not really be held responsible for this idiocy.)
At 0:22: Uniformed schoolchildren from Banbridge in Northern Ireland gather around the Crozier Monument, which commemorates Francis Crozier of the ill-fated Franklin Expedition, and which is situated on a busy intersection in the town. They are chanting and shouting at passing traffic. I think they're yelling "get out of your car!" but it's not very clear.
At 0:55: A Banbridge school teacher explains about a fake newspaper story created and published by the Green Team (she actually refers to it as a "scam" on the video) about the Crozier Monument's polar bear statues being taken away because of "pollution", in order to whip up a "public reaction" to something. Maybe pollution, maybe CO2, I'm not sure which.
At 2:43: The A-Z of climate change: "F is for famines and floods. Next time you see pictures like these, remember – we waste energy, we are responsible."
At 5:54: At a televised debate, one of Banbridge's Green Team makes a speech. It goes something like this: "Even if climate change is not all man-made, all the oil is being used up and humans are being used up, so what happens when I go to have a family, and my generation and the next generation goes on, what are we supposed to use?".
Now hidden in there must have been something that represented time, effort and money well spent, but if there is, I have not found it.
And on the subject of money and propaganda, let us imagine that McDonalds or Kelloggs wanted to organise and supervise "food teams" in our schools; we would suspect a corporate agenda at work, but at least we would know that the funds would probably come from the companies themselves. However, when Cape Farewell and The Mighty Creatives organise their speakgreen activities, with an agenda as obvious as that of any corporation, they will be bankrolled to a large extent by the public. Cape Farewell's biggest sponsor is the notoriously wasteful, taxpayer-funded Arts Council England (out of approximately £450,000 of Cape Farewell's income from charities in 2009, £150,000 – a third, in other words – came from the Arts Council.) A close partner of Cape Farewell is the British Council, another fervent evangelist for CO2 mitigation and a happy recipient of our tax money. Cape Farewell's partner in the speakgreen project – The Mighty Creatives – are part funded by Arts Council England and also by CCE – Creativity, Culture and Education – (often, confusingly, referred to on the internet by their old name, Creative Partnerships), themselves an offshoot of Arts  Council England, and who thus represent yet another stream of our tax money feeding into the project. The bottom line is that we are paying for much of this propaganda ourselves.
However, a reliance on public funding is also, potentially, speakgreen's Achilles heel. In the Spending Review of October 2010, the UK Government announced a cut to the budget of Arts Council England of almost 30%, which will leave the organisation wondering how it will be able to afford future funding for clients. In turn, CCE's budget is being slashed by a colossal 50%. It is like a sudden and very severe drought, threatening (or promising, according to your point of view) to dry up and cut off the multiple streams of public money that once flowed so freely into projects everywhere – some that were worthwhile, others that were arguably less so.
Will speakgreen wither, then, or will it live on? Personally, I think that its survival, and that of other extravagances like it, might well be hanging in the balance now. Coinciding with the rise of public scepticism in this country about catastrophic man-made global warming, there is a significant (and indisputably man-made) downturn under way in the financial climate, both in Britain and worldwide.
As we approach the end of 2010, it is becoming clear that where funding for green projects is concerned, things may never be quite the same again.
Links:
speakgreen:
Creative Partnerships press release:
http://www.creative-partnerships.com/in-your-area/east-midlands/news/speakgreen-lincolnshire-schools-eco-project-launch,455,ART.html
Cape Farewell:
Cape Farewell climate science:
http://www.capefarewell.com/climate-science/facts.html
Deborah Warner, writing in the Independent:
http://www.independent.co.uk/arts-entertainment/theatre-dance/features/deborah-warner-to-the-ends-of-the-earth-2110203.html
Cape Farewell's funding:
http://www.charity-commission.gov.uk/ScannedAccounts/Ends47/0001094747_ac_20090331_e_c.pdf
Arts Council cuts:
http://www.guardian.co.uk/politics/2010/oct/20/arts-cuts-spending-review-council
Arts Council England and the budget cuts