The following appeared in the Financial Times today:
As Expected: Treasury Sees Red At Huhne's Green Bank

Monday, 31 January 2011 12:35 Elizabeth Rigby, Financial Times

Chris Huhne is at loggerheads with the Treasury over the size and scope of the green investment bank, as officials seek to thwart his attempts to ensure it operates as a fully fledged bank.

The Treasury has already earmarked £1bn for the bank, to be spent on green infrastructure projects such as renewable energy. It has also privately confirmed that more than £1bn of funds from asset sales will also be made available, according to two ministerial aides. But in return for the additional funds, officials are trying to prevent the energy secretary and Vince Cable, the business secretary, from establishing it as a bank. The bank is one of the flagship green initiatives of the coalition.

A commission on how the bank should operate – led by Bob Wigley, a former European head of Merrill Lynch – has recommended it should have powers to raise finance from the private sector. But the Treasury is concerned the bank will increase national debt and would prefer it to act simply as a fund, dispensing grants and loans.

"The Treasury is completely against the idea of a proper bank because they can't see where it would go on the government's balance sheet," said one person familiar with the talks. "Huhne is determined to get a bank and Cable is acting as the arbiter."

Mr Huhne believes the bank is central to efforts to build Britain's green infrastructure and low carbon economy in the coming decades. The energy sector needs to invest at least £200bn over the next 10 years to meet official targets for developing renewable energy and cutting carbon dioxide emissions.

The government is due to outline plans for the bank this spring but is struggling to meet the deadline.
I wonder if anyone at the treasury, let alone at Chris Huhne's Department of Energy and Climate Change, saw this chart that someone kindly pointed out to me in the Investors Chronicle: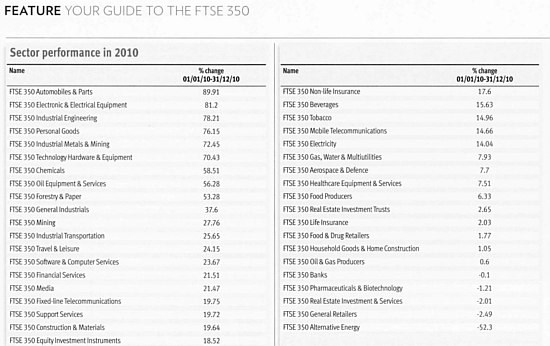 Note the juxtaposition of Automobiles and Parts (+89.91%) and Alternative Energy (-52.3%) at the beginning and end of the listing.
If this reflects the level of market confidence, post Copenhagen and Cancún, in the coalition's so-called Green Revolution, then God help the green bank. Investment in Alternative Energy looks as though it holds about as much allure as subprime mortgages, and it seems that the coalition has learned nothing from the banking crisis. The value of assets are determined by supply and demand: politically correct optimism is not an entry that any accountant would attach a value to on a balance sheet.