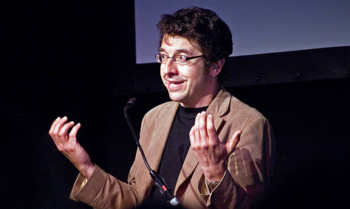 The career of George Monbiot has been meteoric – coming down to earth in a shower of sparks, and leaving a charred hole where the Guardian's top investigative journalist used to be. From Paul Foot to William Boot in a few carbon-shedding steps.
(For non-Brits: Foot was a campaigning journalist at Private Eye and the Guardian. William Boot is the journalist hero of Evelyn Waugh's novel "Scoop", who, after a disastrous episode in which he is sent to Africa to cover a revolution, ends up back in the office writing Nature Notes).
In February 2009 Monbiot initiated a new format blog at Guardian Environment with an attack on Telegraph journalist Christopher Booker. In the article, entitled « Booker's work of clanger-dropping fiction » he accused his colleague of writing "complete trash, and provided a list of seven claims in an article by Booker which Monbiot attempted to refute.
A second article, two days later, entitled "Pure rubbish: Christopher Booker prize" featured  a photo captioned "Christopher Booker prize 2009 offered for producing clap-trap about climate change". Readers were invited to nominate articles, and George explained:
"The award will go to whoever in my opinion and assisted by climate scientists and specialists manages, in the course of 2009, to cram as many misrepresentations, distortions and falsehoods into a single article, statement, lecture, film or interview about climate change".

(Note that Monbiot hadn't managed to finish his sentence coherently. As many as what?)
There is a note at the bottom of the first article saying "this blog has been amended". What has been altered is the word "Bullshit" which featured in the original article, and is still visible in the photo of the "award" in the second article.
Of the supposed errors by Booker:
The first concerned the utterly trivial question of whether Dr Theon, who criticised James Hansen of NASA, was Hansen's "supervisor" when he was head of climate research there and Hansen was working under him.
The second concerned the Hockeystick, about which Monbiot says:
"Far from being discredited, the hockey stick graph of past temperature reconstructions has been supported by a large number of further studies … Those who claimed to discredit it have been comprehensively rebuffed".
The third was about the BBC's reporting that Arctic summer ice might soon disappear at a time when, according to Booker, "this winter's refreezing was about to take ice cover back to a point it was at 30 years ago". Monbiot attempts to refute this by quoting the ice extent for December, apparently unaware that maximum ice extent is in March/April.
The other four claims were about BBC reporting of a paper by Steig et al suggesting that the Antarctic has been cooling. Booker makes two minor errors, describing the paper as being "based on a computer model run by the creator of the hockey stick (Martin Mann)", when it was based on some peculiar statistical infilling on very sparse and badly compiled data, and Mike Mann was just one of six authors.
Overall, Monbiot scores a couple of nitpicking points, muffs an attempt to refute Booker over Arctic ice, and, naturally, disagrees about the hockeystick and the Steig paper on Antarctic warming, citing Gavin Schmidt and RealClimate as his authority throughout.
There followed a lively discussion thread, with 332 comments, only three of which were deleted, including one of mine. I seem to remember that several of us reacting vigorously to the use of the word "bullshit", which I found genuinely shocking, but I can find no comments to that effect. I suspect that they were wiped at the same time that the title and article were amended.
Most of the remaining comments rest within the bounds of decency, except for those by Bluecloud, (a warmist commenter who has been retrospectively allotted a capital "C" for Guardian Contributor of occasional articles). Among his comments one finds:
".. pile of shite.. Maybe you both simply cannot read.. Your arguments are getting desperate now. Go back to your masters and seek advice. But you may find they've taken off to tax-free havens already, so you'd better hurry.. a great deal of farting on the ClimateAudit website.. These are a small, sad bunch who couldn't string a coherent argument together to save their lives. Some even resort to personal attacks in their desperation, while others are paid blood money to spout corporate rubbish." etc.
Comments start at  3 February 2009 2:13PM (the article is wrongly dated to 4 February) and a number of bloggers provided point-by-point demolitions of Monbiot's criticisms of Booker, without Monbiot replying.
At 3 February 2009 9:09PM I commented:
"Monbiot has a long history of using ad hominem arguments (…) With Booker he has changed tack, no longer appealing to peer reviewed science as the only arbiter, but quoting RealClimate – the gospel according to Gavin – just like any common-or-garden blogger. His criticisms are so feeble that one understands why he has so long avoided entering the arena of debate on the actual facts of climate change. Monbiot's arguments against Booker have been effectively demolished by HackneyHal at 2.34pm, Hamlet4 at 3.07 and 3.13pm, me at 4.33pm, Don Basilio at 5.06pm and 5.43pm, knife at 5.44pm, and wilddonkey at 8.23pm [+ RonCram at 5.29am 4 February – added in a later comment]

Monbiot must answer these, and CheshireRed's challenge at 7.28pm to a genuine debate, or lose all credibility".
Monbiot finally intervened 4 February 2009 12:19PM, nearly 24 hours after the first comment, to say:
"LostTransportation: I'm amazed you cite the Wahl and Ammann study as if it helps the argument against the Mann, Bradley and Hughes palaeoclimate reconstruction ("hockey stick") work. Here's what the Wahl and Ammann abstract says:.."
LostTransportation had, twelve hours previously, pointed out that the Wahl and Ammann paper agreed with the findings of McIntyre & McKitrick in terms of the statistical significance of the verification r2 statistic. The key role played by this paper in kicking McIntyre & McKitrick's criticisms into touch in IPCC AR4 is described in Bishop Hill's "Caspar and the Jesus Paper"
And that's the end of Monbiot's contribution to his own blog. He quotes in full the abstract to a paper which has nothing to do with the subject, and then falls silent, leaving his argument in ribbons, demolished by at least seven separate commenters. The thread continued for several days with commenters, as usual, bickering among themselves while the article was largely ignored.
Note that this was the first of a series of articles under a new heading – "George Monbiot's Blog" – the opening salvo in what was obviously intended to be a year-long campaign – beginning with two articles trashing Booker, and a photo of the "Booker Bullshit Award" taken by George himself – and culminating in a mock presentation to some unfortunate journalist who dared to disagree with George, and the "climate scientists and specialists" who were at his side to assist him in a task which was clearly beyond his capacities.
There were several follow-up articles, (including two, equally nit-picking and tendentious, about George Will of the Washington Post) and the award was finally presented, with a minimum of fuss, to an obscure journalist from Flint, Michigan who said some silly unchecked stuff in an opinion piece for a local newspaper. In the meantime, George had to retract a further false allegation of  clanger-dropping made about Booker in a later article at The Guardian.
Blogging is an ephemeral business, and there's little point in commenters complaining how unfair it is that their comments get ignored. There isn't space to reproduce the arguments developed in the thread, but  anyone can go to the articles and check them out for themselves. If the exchange had occurred in print, Monbiot's reputation as an investigative journalist would have been shattered. As it was, the most visible result was probably that, to casual browsers at Guardian Environment, for nearly a year, the words "Booker" and "Bullshit" appeared regularly in close proximity.
No print newspaper in Britain would stoop to such a level.
The thread rather petered out after Monbiot's contribution, except for an eminently sane suggestion from Alex Cull that Monbiot might like to conduct some investigative journalism into the Steig / Antarctic warming story. I'm ashamed to say that I made use of Monbiot's vulgar outburst to get in a rude and possibly libellous accusation of my own against Monbiot, which remains uncensored. (Alex, I'm glad to say, continued to post in his normal intelligent and good-tempered fashion).