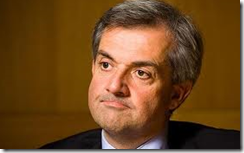 When Chris Huhne announced the carbon budget for the period 2023-27 recently, as required by law under the terms of the Climate Change Act, the Department of Energy and Climate Change had this to say in a press release:
The carbon budget will place the British economy at the leading edge of a new global industrial transformation, and ensure low carbon energy security and decarbonisation is achieved at least cost to the consumer.

http://www.decc.gov.uk/en/content/cms/news/pn11_41/pn11_41.aspx
Well, I suppose he would say that, wouldn't he. But what will the cost actually be?
According to a BBC report published the same day, which predictably makes an enthusiastic attempt to sell this absurd piece of economic self-destruction to the public, this is what is in store for us:
The Committee on Climate Change has forecast that to meet emissions targets the average household fuel bill will go up by £1 a week until 2020 when it will plateau out with no major rises after that.
… and just what is that supposed to mean?