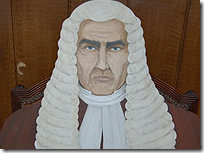 At lunchtime today, the government announced that there will be a full judge-led inquiry into the News of the World scandal and witnesses will give evidence on oath.
This tale of telephone tapping and copper bribing is huge in the UK at the moment, and seems likely to remain so for some time to come partly, or even mainly I suspect, because there is nothing the media like better than writing about themselves. Looking at the affair objectively, it is very difficult to see what makes this story quite so important.
Yes, there are people like the Dowlers, and the families of servicemen who have died on active service, who have suffered appallingly and quite unnecessarily at the hands of unscrupulous journalists, but although I have the utmost sympathy for them, what's new about that? Most of those who have had their phones hacked are celebrities who have put themselves in harm's way by courting publicity in the course of realising their ambitions. I find the sight of the ludicrous Lord 'Two Jags' Prescott huffing and and puffing and quivering and whingeing about his privacy being invaded quite revolting.
Now that the acceptance – as though we have not always known it – that our politicians, of all political parties, have been grovelling to a ruthless press baron for decades in order to gain his support is adding spice and legs to this story. The Andy Coulson connection has brought the scandal to the doors of Downing Street itself, and no doubt David Cameron's prestige will suffer some damage as a result, but in a month or two it is not likely to merit more than a footnote.
No one has been killed. International relations have not been thrown into chaos. If the reputation of British tabloid journalists and politicians will be somewhat dented, then they were pretty battered already. Public policy, and the decisions that affect all our lives, have not been and will not be impacted in any way.
In the long term there may be, for a while, some improvement in the conduct of the press. It may even be that News International will, briefly, have rather less influence on political life here, but so long as the opportunities and the rewards for hacks and politicians remain the same, there will be those who will continue to behave disreputably, and it is most unlikely that any kind of inquiry, however rigorous,  will come up with a reliable way of preventing this.
Perhaps the most important lesson to be learned from this whole grubby affair lies in the alacrity with which a quasi-judicial investigation has been set up when politicians are seeking to protect their own interests. All those involved face being dragged before a judge and cross-examined under oath about their motivation and behaviour. There will no doubt be further casualties among the foot soldiers, but those at the top who are just far enough removed from the action will be able to posture and boast, 'We called for an enquiry and have got to the bottom of this'.
Contrast all that is dominating the headlines at the moment with what happened in November 2009. Then, prima face evidence came to light that scientists, on both sides of the Atlantic, and with truly global influence on public policy, had been behaving over the whole of the last decade.in ways that gave grave cause for the gravest concern. Was any serious consideration given to a judge led inquiry with those involved giving evidence under oath? Oh dear me no! But then it wasn't in the interests of politicians or the press to really find out what had been going on, was it?