As if deconstructing the Co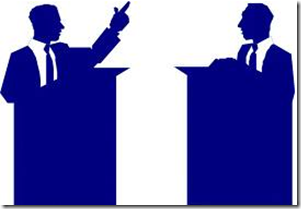 mmittee on Climate Change (CCC) singlehanded wasn't enough to keep us busy, Alex Cull and I have just completed the transcription of the 98-minute Guardian Climategate Debate held on July 14th last year. It can be found here.
There were many detailed and interesting accounts of the debate on the net, including those by Alex and Robin Guenier here, Maurizio Morabito here, and Atomic Hairdryer here.
In addition to the audio recording of the debate, the Guardian put up a five minute video extract, and an report by  Damian Carrington here, in which he said:
Something remarkable happened last night in the polarised world of "warmists" versus "sceptics": a candid but not rancorous public debate… to my knowledge, never before have all sides of this frequently poisonous debate shared a stage. The outcome was illuminating.
and asked:
Will the friendliness that broke out at the Guardian debate prove a mere holiday romance? Or will it be the start of a new way of conducting and communicating the science, especially online, that will shape how the world lives for centuries, as demanded by many? I'm cautiously optimistic.
A year on, it's safe to say that the cautious optimism of the Guardian's environment editor was misplaced. While a small number of scientists, led by Judith Curry, have accepted discussion with sceptics, the mainstream media haven't budged an inch, while the government moves to ever more extreme positions, egged on by the Greenpeace/IPCC complex of government-financed non-governmental organisations, paid to lobby governments to persuade them to do what governments want to do anyway.
I don't intend to analyse the debate. The point of our transcription is to enable everyone to make up their own mind. The main impression I took away from the transcription was that no true debate took place, which makes me wonder whether a debate is even possible, or could ever have the desired result of opening up discussion of the numerous weaknesses in the warmist case – weaknesses which are currently known only to a tiny number of sceptics, and to a slightly larger number of warmist activists who monitor sceptic activity.
I do invite anyone who is interested in the question of how to "win" the argument to read the transcript, looking at the structure of the debate, as well as the content, and ask themselves, how could the debate have been "won"? How could anyone make a well-constructed case, given the constraints of time and circumstance?
To show what I mean, here is just one example of the way the argument was never engaged:
To Trevor Davies' defence of Jones's two papers on the insignificance of urban heat island effect, (the only time, I think, that anyone on the warmist side engaged with "the science") Doug Keenan replied that the second one showed UHI effect accounting for 40% of warming. Davies interrupted him, objecting that it was "in one small area of China" and that he didn't have "that level of detail", whereupon Chairman George Monbiot put an end to the discussion, by turning to his colleague, fellow Guardian journalist Fred Pearce, and saying:
Fred, we've run very soon into an issue which is incredibly detailed, it involves, when you get into it, even further an awful lot of complicated science. The great majority of people who've tuned into this debate don't have the scientific expertise to be able to judge – how do we navigate ourselves, navigate our way, through issues like that?
Note that most of the debate consisted of well-meaning assertions of the need for discussion, an exchange of views, openness and candour etc. Yet the moment detailed science was introduced – science of the most elementary kind which anyone could understand – the chairman moved to close it down, and, from the tone of questions that followed, Monbiot was only reflecting the mood of the questioners. They wanted to know what the panellists were going to do about warming, or what effect the Climategate emails might have on their movement. They were not interested in temperatures in Eastern China, or what Jones wrote to Warwick Hughes. They were not interested in hearing what was wrong with the science.
It was clear to me that the warmists were not interested in hearing the sceptic case, just as it is clear to warmist journalists like Monbiot that we sceptics are unwilling to listen to reason (i.e. "the science"). In these conditions no debate is possible.
Robin Guenier had an interesting article here in which he discussed the theory of Cass Sunstein, a member of the Obama admiration, explaining how "groupthink" results from associating with people who share the same ideas, reinforcing those ideas and carrying them toward extreme positions.
Sunstein says:
The most important reason for group polarisation, which is key to extremism in all its forms, involves the exchange of new information. Group polarisation often occurs because people are telling one another what they know, and what they know is skewed in a predictable direction […] If people are worried about climate change, the arguments they offer will incline them toward greater worry. If people start with the belief that climate change is a hoax and a myth, their discussions will amplify and intensify that belief. And indeed, a form of 'environmental tribalism' is an important part of modern political life. Some groups are indifferent to environmental problems that greatly concern and even terrify others. The key reason is the information to which group members are exposed.
Sunstein applies this theory to global warming, the Rwandan genocide, and the Barack Obama's election campaign, without explaining why groupthink took off in these particular cases, and not others. After all, Obama's campaign was not the first to mobilise grassroots activists; Rwanda is not the only African country with inter-tribal tensions; global warming is not the only fashionable idea whose proponents tend to gather together in order to reinforce their beliefs. Psycho-social theories of the way people adopt and transmit their beliefs can only take us so far.
One of the basic mistakes sceptics have made in framing the sceptic/warmist "debate", I think, is in seeing it as a sporting event, a match between two "teams". Our democratic tradition leads us to frame any social or political question in these terms, and attempts by opinion polls to measure the relative strength of "warmists" and "sceptics" reinforce this tendency.
Any attempt at a coherent explanatory description of the social groups who confront each other on the climate change question reveals, not two "sides", but a number of interlocking groups, which differ in size by orders of magnitude. Here is one such possible breakdown, with approximate sizes of the groups involved. It is by no means definitive, and no doubt one could produce more sophisticated versions:
numbered in tens of millions: the mass of electors who couldn't care less about the technical arguments around climate change, but may well be made to care by rising fuel prices, or attempts to limit their air travel, or to punish them for putting stuff in the wrong bin.
numbered in millions: those who "care about the environment". Surveys tend to find about 10% of the population who place "the environment / pollution" among their top worries. They tend to be more middle class, and more educated.
numbered in hundreds of thousands: those who have the motivation and education necessary to make intelligent judgements on climate science
numbered in tens of thousands: the deciders; the politicians, editors, programme makers, professional activists, academics, who have decided that climate change is the defining problem of our century.
numbered in thousands: climate sceptics, who have emerged, or been ejected by some mysterious force, from groups 2) and 3) above.
I have deliberately chosen the sizes of the groups to emphasise my point: that there is no possibility of them meeting and discussing the subject on a level playing field. In a random group of ten citizens (a focus group, for example, of which political parties are so fond) just one person, on average, will be concerned about the environment. In a group of ten environmentally concerned citizens, just one will be intellectually equipped to discuss the subject. In a group of ten who are scientifically savvy, one will be in a position of influence, and there is a one in ten chance of finding a sceptic.
Even if my figures for the relative sizes of the groups are out by a wide margin, the general point still holds; the conditions for a useful debate do not exist.
Of course, a similar situation arises with respect to other social / political questions, and is a fundamental problem for the working of democracy. It is solved by the formation of opposing factions – parties, in other words. People do not form their opinions, or act politically, as isolated individuals. Their beliefs are mediated and transformed into political action via their membership of coherent groups, defined by class, age, geography, religion, etc. We define ourselves as liberal or conservative, nationalist or internationalist, etc., and gravitate towards the group or party which best embodies our beliefs.
What distinguishes climate change is the way it has been adopted as a fundamental belief by the entire political and intellectual élite in western democracies. Scientific and political consensus means that there is nowhere for sceptics to go, no reputable journal in which (for example) criticism of the IPCC can be expressed, no mainstream political party to vote for, and (what is dangerous for democracy itself) no way to stop a Chris Huhne from leading the country to economic disaster in the name of scientific truth.
If you think I'm exaggerating, read the contribution of Bob Watson to the Guardian debate. NASA, the White House, the World Bank, Chairman of the IPCC, and now DEFRA – he's been everywhere, advised everyone. He's the archetypal establishment figure. I don't want to be rude, but he can't debate. He doesn't understand the concept. Like Sir Paul Nurse in the recent Horizon documentary, he can't hear what his interlocutor is saying. A lifetime of handing down scientific truth to elected leaders has removed him from the realm of normal human discourse. He's probably a nice bloke, but he's an awful warning of what can happen when intelligent people think they've discovered some unassailable truth.