(What follows is a comment which Alex Cull posted on another thread. It is quite extraordinary that an ex-government chief scientific adviser and ex-president of the Royal Society should be capable of thinking like this, and Alex's final comments is typically sharp.)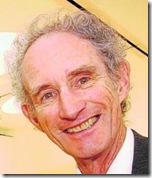 Happy New Year, all! Here's a recent interview you may find of interest – Robyn Williams of the ABC's (Australian Broadcasting Corporation) Science Show talking to Lord May; worth a listen/read, in my opinion. An excerpt (emphases mine): Robyn Williams: So what do you make of someone like Lord Lawson, with whom you sit in the House of Lords, who has for many, many years, having been Chancellor of the Exchequer, a brilliant man, but nonetheless talks about climate change consistently over the years as if it is highly questionable. What do you say to him?
Robert May: And particularly amazing more recently is Andrew Turnbull, who I always thought of as a very sensible person. He was the Cabinet Secretary, a civil servant, not a politician. So his career was taking advice from people who knew more about it than him, and he is right up there as a denier. Polly Toynbee wrote an extraordinarily cruel thing about him. I do find it puzzling, but I do have one perhaps unsound potential explanation. These people are all economists, and more recently I've come to learn a little bit more about economics and I realise it is very largely (and I don't mean this in a sarcastic way, it's just a statement), it is largely faith-based. It doesn't have much in the way of testable hypotheses and things. It does have things in the way of simple models but they tend to be grounded on beliefs, and the discussions they have would have been a more familiar in Socrates' Athens than in today's scientific colloquium. And so I have some sympathy that just as you may believe in perfect markets or general equilibrium or hidden hands, you could have a belief that the climate can't do that. That is a charitable explanation. There are less charitable ones, that it ultimately derives from other kinds of motives.
I had a look at columnist Polly Toynbee's article, which I think he might be referring to; it's from August last year and about why Britain must resist "Tea Party madness" (where else would it be but in the Guardian?) and it, too, is I think worth a read, from a climate change psychology perspective. She writes:
On matters of fact, those of us who are not scientists can only listen to what scientists say and trust such an overwhelming global consensus.
Now that's what I call faith.