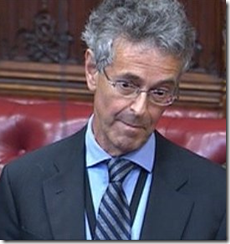 What follows is a comment that Alex Cull posted on the New Statesman thread. It seems far too good to languish there:
Alex Cull Says: November 14th, 2011 at 10:29 pm Here's a link to a very recent interview on ABC's [Australian Broadcasting Corporation] Science Show (audio is available and they should have a transcript up within a few days) with Robyn Williams talking to Lord Krebs, zoologist, Principal of Jesus College Oxford and member of the CCC [Climate Change Committee].

Lord Krebs: How are we going to decarbonise the electricity supply? The answer is there is no one magic bullet. What you need is a portfolio of renewables – particularly, in the UK, offshore wind because we are lucky, we've got a very windy shoreline, some onshore wind, although the NIMBYs (the not-in-my-back-yard brigade) tends to slow that down, there'll be a small amount of wave and tidal power, and nuclear will have a significant role to play.

No mention about the growing concerns re the cost (a minor detail, it seems – what's a mere Mars-mission equivalent here or there, after all?) Indeed, what Lord Krebs also appears to be saying is that not only will we have to totally "decarbonise" the economy, but we will need to be persuaded to ditch the idea of economic growth as well (which raises, does it not, a double question mark over how all this massive decarbonisation is to be paid for, at the end of the day.)

Lord Krebs: …and I think we do need, in the longer term, to get used to the idea of a different model from the model of continuous economic growth for ever and ever. It just isn't sustainable.

Robyn Williams: So that's a question of changing people's behaviour, which is always a challenge. How do you do that?

Lord Krebs: It's a matter of changing politicians' behaviour. But the politicians, at least in a democratic society, are there because the people put them there. So if the electorate sent a signal to the political classes – "We don't want a model of forever getting richer, forever using more resources, forever plundering the environment" – then I expect the politicians would change their pitch. So it is, in the end, about changing people's behaviour and people's aspirations. And that's a really difficult nut to crack. When we think of the scientific contribution to problems such as global warming or food security, we tend to think of the technological aspect of science, the biological sciences, physics, engineering, chemistry, and so on. But actually, in my view, the behavioural sciences have got a huge contribution to make, here, in trying to understand how we change people's norms, people's expectations, and people's aspirations.

Notice how this shifts from changing politicians' behaviour (we, the electorate, doing this by exerting our democratic rights), seamlessly to changing the electorate's behaviour (but then there's a riddle – who will need to change our behaviour, so we can then change the politicians' behaviour?)

Lord Krebs: But going back to the fundamental question of "Can we change people's aspiration and people's expectation?" I think this is a really interesting area for research. The people who probably know most about it are, of course, the marketing people, because they know how to get us to expect to be able to buy new stuff, whether it's an iPhone or a new item of clothing, because of this year's fashion. So we ought to be able to take their skills and their knowledge and turn it to a different purpose, to get people not to expect to have the latest gadget, the latest styles of clothing but to realise they're perfectly happy with what they've got.

Robyn Williams: Who would pay for that advertising campaign?

Lord Krebs: That's a very tricky one, who would pay for it.

Robyn Williams: If it's the government, then the old "nanny state" accusation comes in.

Lord Krebs: There's always a risk of "nanny state", and I think that again is really part of the problem, of who ultimately takes responsibility.

I'm wondering if Lord Krebs might have actually already provided an answer to the riddle. "So we ought to be able to take their skills and their knowledge and turn it to a different purpose, to get people not to expect to have the latest gadget…" etc. Who's this "we"?
For those who have not come across his lordship before, he first come to public attention, and earned his ennoblement, by heading the Food Standards Agency. One of his sillier contributions at that time was an attack on the organic food movement. He is now – God help us! – chairman of the House of Lords Science and Technology Committee. In real life, he is a world expert on the behaviour of birds.
That such an influential figure should seriously suggest that the same people who have managed to convince us that supermarkets sell good food and that its sensible to buy such shoddy goods that that they need frequent replacement are just the people to sell climate change – when scientists, politicians and activists have failed – is bizarre. But it is Krebs extraordinary confusion about the role of politicians and their electorates in a free society that really amazes. Is it surprising that the general public is becoming more and more suspicious about what scientists tell them?