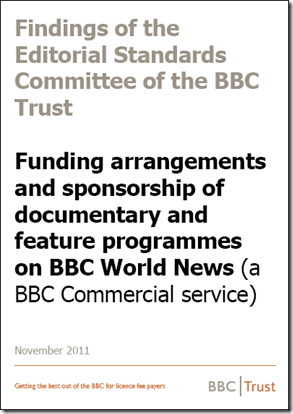 For most of last week, over at Bishop Hill Andrew Montford has been unearthing increasingly disturbing evidence of the degree to which the BBC is in bed with environmental advocacy groups. This has resulted in an outburst from Dr Joe Smith, an environmental activist and lecturer at the Open University, on his citzen joe smith [sic] blog.
The cause of friction is Andrew's discovery that Dr Smith acted as an adviser on some of the programmes that a recently published BBC Trust report identified as being sponsored by interested parties without the audience being made aware of the fact. It's a bit like screening a programme that extols the health benefits of organic food without mentioning that the production costs were very kindly paid by the Soil Association and a leading supermarket chain that specialises in stocking organic products.
There is legislation in place – the Communications Act 2003 in particular – that makes deceiving audiences in this way illegal, and with very good reason.
Of course the BBC claim that they knew nothing of such things, and have been misled by the production companies, but Andrew's digging increasingly calls this into question. He is also linking this scandal with the revelations that we have both worked on concerning the activities of Roger Harrabin, the BBC's Envionment Analyst, and a very shadowy operation called the Cambridge Media and Environment Programme (CMEP). Regular readers of this blog will probably remember Dr Smith as one of the co-Directors of CMEP. The other co-Director is Roger Harrabin.
CMEP was set up by Smith and Harrabin for the purpose of organising seminars that would bring together environmentalists and broadcasters, no doubt for their mutual benefit.
Over the last several years, Andrew and I have pieced together quite a lot of information about CMEP, and in particular the extraordinary impact of a seminar that was held at Televison Centre in January 2006 . The BBC claim that this event mustered thirty of "the best scientific experts" to provide BBC executives with "an understanding of the existing state of knowledge on the issue of climate change". Subsequently the BBC has refused to name "the best scientific experts" that Smith and Harrabin laid on for the occasion, but an eye-witness account from Richard D North states unequivocally that the experts present were actually environmental activists.
It is hardly surprising, therefore, that this seminar led directly to an editorial decision to marginalise climate sceptics so far as BBC output was concerned. That decision has had a far reaching impact on the presentation of the climate debate, which becomes more and more evident.
So what has Dr Smith got to say now in response to Andrew's latest probing?
Well with crass arrogance, he starts out like this:
An apology to my regular reader/s. This is going to be very dull, but I'm aware of some comments over at Bishop Hill blog that require correction.
Dr Smith then goes on to explain that the CMEP programme of seminars has ended after 15 years. Apparently the last of the annual events was in 2009. What Dr Smith does not do is say why they have ended, which seems rather strange when he spends the rest of his post claiming that his and Roger Harrabin's activities in connection with CMEP have been beyond criticism.
For this purpose, he reprints some notes on the CMEP Real World Seminars he says he produced "in reply to a query from Tony Newbery in July 2009". Actually I did not 'query' Dr Smith, but got a message from DEFRA, who were dealing with an Freedom of information request of mine, that he wanted to send me a document called Real World Seminars. I contacted him as requested and this led to a lively exchange of emails that I'll put up in another post.
The submission that Andrew and I made to Professor Steve Jones' ludicrously partisan review of the BBC's scientific output takes a very different view of events from that set out in Dr Smith's Real World Seminars. Anyone who is not familiar with the very disturbing evidence that we presented might like to have a quick look here
Although our submission to the review was not made until October 2010, we had made it clear to the BBC Trust in April of that year that we wanted to provide some input. The BBC could not have failed to be aware of what was in store, given the material that had appeared on both our blogs and the various requests that we had made to the BBC Trust for information under the terms of the Freedom of Information Act.
It really would be very interesting to know why the seminar programme, and presumably CMEP too, hit the buffers at this particular time. Could it possibly be related in any way to the fact that around the same time Roger Harrabin more or less disappeared from BBC broadcast output?
Life is full of little mysteries, but I know that I will be wasting my time if I ask the BBC about all this. Perhaps Dr Smith will provide an answer.
In the meantime, the cavalry might be about to charge to the rescue.
Just when the mandarins who control the BBC's factual output – news and documentaries – probably thought that they had engineered themselves into an new era when they could relax, it looks as though the world is about to fall on their heads.
If they expected the Jones report would herald a period of cosy complacency, when they could ignore those pesky critics in the blogosphere who ask awkward questions and dig out horribly embarrassing snippets of information, they were mistaken.
The story of CMEP, and the new information that Andrew seems to be adding almost daily about sponsored programmes broadcast by the BBC, has a long way to go yet.
Read Christopher Booker's column in the Sunday Telegraph tomorrow.
and also David Rose in The Mail on Sunday. (See update below)
UPDATE 21/11/2011 08:45: Dr Joe Smith has contributed a long comment in response to this post here
UPDATE 21/11/2011 12:45: Andrew Montford informs me that David Rose's article in the Sunday Mail about CMEP has been taken down from their website because of a complaint from Roger Harrabin.
UPDATE 22/11/2011 09:30 David Rose's Harrabin story in the The Mail on Sunday is back on their website.